By David Evans
July 29th, 2020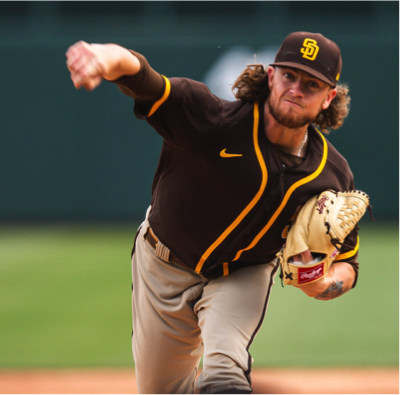 Opening Day, Chris Paddack of the Padres pitched 6 scoreless innings against the DBacks.  Below is a comparison spreadsheet showing each pitch including whether it was in the strike zone or not.  It shows how the Real Strike Rule would have lowered the pitch total by 17 pitches.  He probably would have thrown an even higher percentage in the zone if he knew that pitches out of the zone would always be balls. It looked like Paddack threw 52 of his 81 pitches in the strike zone.
         To my knowledge, Major League Baseball has not officially defined what an electronic system would call a strike; is it one point on the ball touches the edge, the mid point, or the entire ball?  I went with umpire calls unless it was really obvious.
The game stats said he threw 64 strikes and 17 balls.  The difference is batters swinging at pitches out of the zone along with some missed calls by the umpire.
---
---
Present Rules         Real Strike Rule
81             Pitches            64
3            Strikeouts             6
4                Hits                  1
1              Walks                2
15    Ball-In-Play Outs     12
Present Rules
 
Real Strike Rule
 
Pitch
Total
B/S
Call/
In/Out
At Bat
Total
Ball
AB
No.
Pitches
F/IP
Swing
Of Zone
Result
No.
Pitches
Strk
Rslt
K Marte
1st Inning
1
S
C
I
1
S
2
S
C
I
2
S
3
F
I
3
3
S
K
4
B
O
5
5
IP
I
Single
Peralta
1
6
IP
I
Dbl Play
1
4
Gr Out
S Marte
1
S
S
I
1
S
2
B
O
2
B
3
S
S
I
3
S
4
B
O
4
B
5
F
O
5
9
S
K
6
B
O
7
13
IP
I
Pop Up
Escobar
2nd Inning
1
B
O
1
B
2
S
?
I
2
S
3
F
I
3
F
4
B
O
4
B
5
F
I
5
14
S
K
6
19
S
?
O
K
Walker
1
F
I
1
S
2
S
?
O
2
B
3
22
IP
I
Single
3
17
IP
Single
Calhoun
1
S
S
I
1
S
2
S
S
I
2
S
3
F
I
3
20
S
K
4
F
I
5
F
I
6
F
I
7
F
I
8
30
IP
I
Single
C Kelly
1
S
C
I
1
S
2
F
I
2
S
3
B
O
3
B
4
34
IP
I
Dbl Play
4
24
IP
Gr Out
Lamb
3rd Inning
1
S
C
O
1
B
2
S
C
O
2
B
3
F
O
3
27
B
Walk
4
38
IP
I
Double
Ahmed
1
S
S
I
1
S
2
S
S
I
2
S
3
41
S
S
I
K
3
30
S
K
K Marte
1
S
C
I
1
2
S
C
I
2
S
3
F
O
3
33
S
4
B
O
B
5
46
IP
I
Gr Out
B
Gr Out
Peralta
1
B
O
1
B
2
B
O
2
B
3
49
IP
I
Gr Out
3
36
IP
Gr Out
S Marte
4th Inning
1
S
C
I
1
S
2
S
C
I
2
S
3
B
O
3
B
4
53
S
S
O
K
4
40
S
K
Escobar
1
54
IP
I
Line Out
1
41
IP
Line Out
Walker
1
B
O
1
B
2
S
C
I
2
S
3
57
IP
I
Fly Out
3
44
IP
Fly Out
Calhoun
5th Inning
1
S
S
I
1
S
2
59
IP
I
Gr Out
2
46
IP
Gr Out
Kelly
1
S
?
I
1
S
2
61
IP
I
Gr Out
2
48
IP
Gr Out
Lamb
1
B
O
1
B
2
B
O
2
B
3
S
C
I
3
S
4
S
C
I
4
S
5
B
O
5
53
B
Walk
6
F
I
7
F
O
8
F
I
9
70
B
O
Walk
Ahmed
1
B
O
1
B
2
F
O
2
B
3
S
?
I ?
3
S
4
74
IP
O
Fly Out
4
57
IP
Fly Out
K Marte
6th Inning
1
75
IP
I
Fly Out
1
58
IP
Fly Out
Peralta
1
S
C
I ?
1
S
2
S
C
I
2
S
3
78
IP
I
Gr Out
3
61
IP
Gr Out
S Marte
1
S
C
I
1
S
2
S
S
O
2
B
3
81
IP
I
Gr Out
3
64
IP
Gr Out
Present
Real Strike
Inn
Rules
 
 
Rule
 
1
Single
K
Double Play
Ground Out
Pop Up
K
2
K
K
Single
Single
Single
K
Double Play
Ground Out
3
Double
Walk
K
K
Ground Out
Ground Out
Ground Out
Ground Out
4
K
K
Line Out
Line Out
Fly Out
Fly Out
5
Ground Out
Ground Out
Ground Out
Ground Out
Walk
Walk
Fly Out
Fly Out
6
Fly Out
Fly Out
Ground Out
Ground Out
Ground Out
Ground Out
Present
Real Strike
Rules
Rule
3 K
6 K
2 Double Plays
1 Single
3 Singles
2 Walks
1 Double
12 In-Play-Outs
1 Walk
15 In Play Outs
81 Pitches
64 Pitches